One of the most important things we can explain is how we operate. We're not like other charities. We're more like a community foundation, but we're much smaller and have a larger focus on investment and story telling.
Story Telling
There's a lot of good in the world. We want to focus on the good and share those stories we come across. Every story we share is a firsthand account of something good in this world. Follow us on Facebook and keep checking out our library of kindness for more inspirational content.
Investment
Most charities spend almost all of what they bring in each year to make the most impact they can. However, we want to investment almost all of what we bring in and only use the investment income as an endowment. That way, we guarantee long-term sustainability.
Transparency
Our number one goal is transparency, so we aim to provide as much information here as we can. Periodically, we'll be updating you with more information on where our revenue comes from, where it goes, and operational decisions. On top of that, we're happy to answer questions you might have.
Our Causes
For the most part, our donors choose the causes we support. If 25% of all donations are made to reduce hunger in our community, we'll use roughly 25% of our investment income to support causes that reduce hunger. Ultimately, who we choose to benefit is up to us, but we use the donations as a guideline.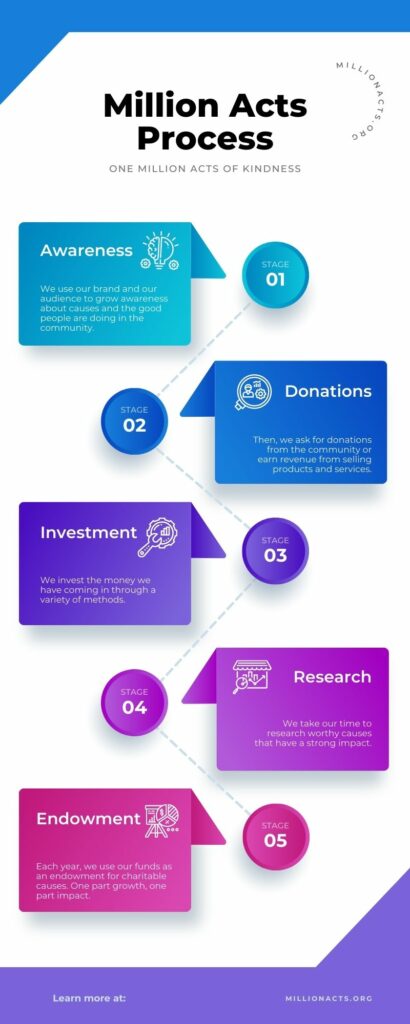 Our Detailed Process
We're unlike other charities because our main focus is long-term sustainability.
---
Awareness
We want to bring awareness to good causes, whether or not they're through a charity, business, or individual.
Donations
We collect donations to grow our fund and our impact.
Investment
Part of where we focus our efforts is in the investment process. We aim to grow our fund so we can grow our impact.
Research
When we're telling stories of great impact, we're also doing research! Because we're a small operation, we get to focus on high impact, low cost causes.
Endowment
Finally, we operate as an endowment. Part of our funds are reinvested every year so that our impact can grow year after year without the need for larger community investment.